Full vision polycarbonate roller door | Store Front Transparent PC rolling shutter
The polycarbonate shutter slat is the major component of a transparent roller shutter, it is made of 100% high quality polycarbonate raw material
| | |
| --- | --- |
| Model No. | PC-100 |
| Material | PC slat, Aluminum bar |
| Max width  | 10meter |
| Max height | 4meter |
| Thickness | 1.2mm/1.5mm/1.8mm/2.0mm |
| Color | transparent |
| Weight | 5KG/sqm |
| Packing | foam and carton or plywood packing |
| Warranty | 5years |
ITEM DESCRIPTION:
The full vision polycarbonate roller door is widely used in commercial shops and brand stores,
this type of roller shutter can protect the store from burglary and display the shop good 24hours a day.
it is also accepted by its advantages such as easy installation, cheap price and low maintenance cost.
TECHNICAL DATA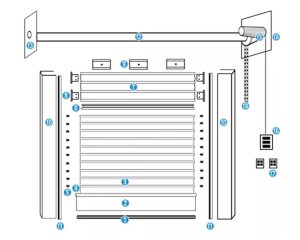 Curtain: The Full vision polycarbonate roller door consists of aluminum bar and clear polycarbonate slat
with plastic end caps fixed on both sides to prevent the slats slipping out
Specification of polycarbonate: 100mm*100m, thickness: 1.2~2.0mm Color: transparent
Specification of aluminum bar: 33mm*1.5mm, Thickness:0.8mm~1mm color: white, black or natural aluminum
Aluminum Bottom slat:
*Size: 100mm*15mm for motorized type, 80mm*40mm for manual type
*Thickness: 1.0 mm
*Color: white, black or natural aluminum
*Accessories: rubber tube, padlock, padlock strip
Aluminum Guide rail:
*Size:100mm*40mm, 80mm*40mm
Thickness: 2.0 mm
*Color: white, black or natural aluminum
*Accessories: With brush strip
Aluminum top hook
Top bridging hook is between polycarbonate slats and galvanized steel slats
Galvanized steel slat
**To be connected with galvanized steel slats and shaft
* Color: powder coated
*Thickness: 0.6mm~1mm
Shaft /top Axle:
*Material: galvanized steel
*Diameter:3′, 4′, 5′, 6′, 8′, 10′
*Wall thickness: 1.0mm~3.0mm
Brackets/Side plate:
*The brackets are made of galvanized steel and plated in powder coating
*The brackets must be installed on a solid structural surface such as concrete, wood or steel columns, steel angles,
*The plate is slotted to compatible with top axle or motor mounting.
Side Motor:
*Motor Voltage / Frequency: single phase 220V/50Hz, three phase 380V/50Hz, 110V/60Hz is also available
*Motor remote controls: 2pcs or more
*Motor lifting Force: 300KG, 600KG, 800KG, 1000KG, 1500KG, 2000KG
*Optional: backup battery, alarm system, stopping device, cellphone control
Operation way: manual operation by hand or crank (push up & pull down), automatic operation with motor
(Remote controls, switch button).
APPLICATIONS:
•  supermarket, shopping mall, jewelry shop, coffee shop, club bar, brand chain stores
FEATURES
• Transparency: 80%~90% transparency, transparency varies according to the thickness of the slat
• UV resistance: Provides 80% UV resistance against sunlight
• Impact resistance: Provides better safety and protection than glass
• Heat dissipation: Easy to maintain the temperature of the interior space, 4 times better than glass
• Flame retardancy: horizontal HB/vertical V2
• Advertising effect: Display store products when the store is closed
• Eco-friendly: polycarbonate materials can be recycled and meet ROHS standards,
• Soundproof: provide 3-4DB sound resistance BETTER THAN GLASS
• Light weight: polycarbonate curtains weight is approximately 5 kg/m²
• Weather resistant: Works well in the temperature range of -40 to 120°C
• Warranty: 5 years warranty.
MATERIAL QUALITY 
we use Samsung from South Korea and Makrolon  from Germany PC raw materials to produce the polycarbonate slats
if you need customer-specified materials, we can purchase the materials for you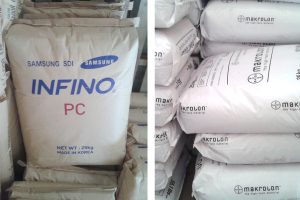 WARRANTY
5 years warranty for polycarbonate slats, we can replace them for imperfect or discolored slats.
Shipment and Delivery
plywood box packing for LCL, foam and carton packing for FCL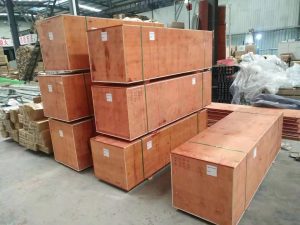 SIMILAR PRODUCTS
we still have more polycarbonate door models, Store Front Transparent PC rolling shutter, clear crystal rolling shutter , clear vision acrylic roller shutter, commercial transparent PC roller shutter door, acrylic roll up door, shop front full vision acrylic rolling door, clear view crystal roller shutter door, acrylic roller shutter curtain, full vision polycarbonate roller door, clear vision crystal roller shutter door, clear view polycarbonate roll up door , commercial full vision PC roll up door, etc. if you a
re looking for more options, please check our other products