Shop front Polycarbonate Roller Shutters | Commercial Transparent Rolling Doors for sale
The polycarbonate shutter slat is the major component of a transparent roller shutter, it is made of 100% high quality polycarbonate raw material
| | |
| --- | --- |
| Model No. | PC-315 |
| Material | 100% raw PC material |
| Pipe diameter | 16mm |
| Slat size | 315mm×115mm |
| Thickness | 2.0mm/2.3mm/2.5mm |
| Color | Full transparent/ frosted links |
| Weight | 128g/piece |
| Qty/sqm | 33pcs |
| Packing | 132pcs/carton box |
ITEM DESCRIPTION:
A Transparent polycarbonate roller shutter is the first choice of many indoor and outdoor shop owners,
it can provide basic security and many other advantages such as transparent looks, durability, easy
installation, cheap price, and low maintenance
TECHNICAL DATA
Specifications
1. Rubber tube: can be attached with a stopping device to protect people or objects under the shutter.
2. Bottom bar: made of aluminum or stainless steel, the color can be white or raw metal color
3. Polycarbonate slat: made of 100% high-quality PC material, it's the major comment of the shutter
4. Stainless steel pipe: made of 201 or 306 stainless steel, the pipe diameter is 9.5mm, 12.8mm, or 16mm
5. End cap: made of black plastic or rubber, diameter is 9.5mm, 12.8mm, or 16mm
6. Top adapter hook: made of aluminum or polycarbonate, it is used to connect the top slat, 3-4pcs every 1meter
7. Top slat: made of galvanized steel, it is used to connect the polycarbonate curtain
8. Stee end clip: it is used to stabilize the galvanized steel top slat.
9. Top slat: made of galvanized steel, it is used to connect the top axle
10. Guide Rail: made of 201 or 304 stainless steel or aluminum, U shape guide rail
11, Brush strip: assemble with the guide rail to ensure quietness
12. Shaft (top axle): made of galvanized steel, the shaft diameter ranges from 3′ to 10′
13. Left plate: made of galvanized steel, it is used to install the top axle
14. Right plate: made of galvanized steel, it is used to install the top axle and motor
15. Roller shutter motor: option 1 seated motor to drive the shaft, capacity range from 300KG to 2000KG
option2 tubular motor inside the shaft, capacity 60N~300N
16. Switch bottom
17. Remote control
18. Manual lifting chain
APPLICATIONS:
•  Fashion store polycarbonate roller shutters, Jewelry store transparent rolling doors, Airport, Club bar, etc.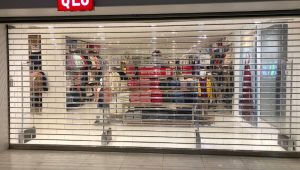 FEATURES
• High visibility: polycarbonate (PC) is a naturally transparent plastic material, its normal transparency is about
80-90%, which is almost as clear as glass, A Transparent polycarbonate roller shutter is the first choice of many
indoor and outdoor shop owners. it not only provides good protection and security for your business but also
provides your customers with a good vision 24hous a day.
• High Security: in the selection of a rolling shutter door, safety and security is always the most important factor.
polycarbonate material is an impact-proof material that provides much more security and safety. It is 200
200 times stronger than glass and 30 times stronger than Plexiglas. even a grown-up man is not easy to break
into the polycarbonate shutter with bare hands or tools.
• Anti UV:  technically all polycarbonate material has UV protection function, the polycarbonate material we are
using now can provide 80% UV380 resistance against sunlight, which is much better than normal polycarbonate
material. anti UV is an essential function of the polycarbonate roller shutter when they are installed outside
• High Durability:  The polycarbonate material has strong durability in extreme conditions,
* Minimum working temperature: -40 °C (-40 °F)
* Maximum working temperature:120°C (250°F)
* Heat Deflection Temperature :0.45Mpa :140°C(284°F); 1.8 megapascals :130°C (266°F)
* Coefficient of thermal expansion; (α): 65 — 70 × 10 — 6/K
* Coefficient of heat conductivity at 22°C (k): 0.19 — 0.22 W/ (m·k)
* Thermal diffusion rate at 25°C (a): 0.144 mm
After we did all the tests the polycarbonate material still maintained stably in the range of -40~130°C, it can work
20 years for an outdoor shop and 20 years for indoor shops.
• Flexibility:  The polycarbonate is very soft material; it can withstand bending strength of 93 Mpa (13500psi),
tensile strength of 67Mpa, Elongation at break 93%.
• Eco-friendly: The polycarbonate material has thermal plasticity, a property of polycarbonate and similar plastics.
it turns into liquid at the melting point and allows easy injection molding, Thermoplastic plastics like polycarbonate
are not burned to liquid but are simply injection molded and can be 100% recycled.
• Energy saving: The polycarbonate material has the function of preventing external heat from entering the room
and internal heat getting out, especially when using an air conditioner.  In the daytime, a polycarbonate shutter
can provide enough light for the house, it's not necessary to turn on the light during the day, which means you
can save a lot of energy cost.
• Sound insulation: the sound insulation of polycarbonate is 3-4 dB better than glass. when the shutter is closed
it insulates the sounds outside, which always gives you a peaceful environment.
• Flame retardant: the polycarbonate is not easy to burn, it can reach HB level for horizontal burning and V2 level
vertical burning. the roller shutter made of polycarbonate slats is not easy to get on fire, even if it is on fire, the
flame is very small and will automatically extinguish in a few seconds.  
MATERIAL QUALITY 
we use Samsung and Makrolon  PC raw materials to produce the polycarbonate slats
if you need customer-specified materials, we can purchase the materials for you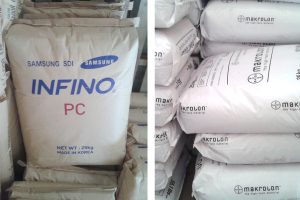 WARRANTY
5 years warranty for polycarbonate slats, we can replace them for imperfect or discolored slats.
Shipment and Delivery
plywood box packing or foam and carton packing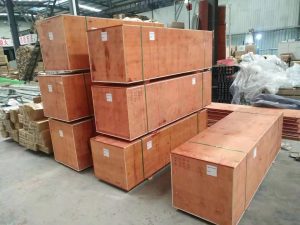 SIMILAR PRODUCTS
we still have more polycarbonate door models, commercial transparent polycarbonate roller shutter doors,
shop front polycarbonate roller shutters, full vision polycarbonate roller shutter doors, Cheap clear view PC
rolling shutters, clear rolling shutters, clear plastic roll-up door exteriors, Commercial transparent rolling doors,
clear crystal rolling shutter, shopping mall clear vision polycarbonate roller shutter if you need more options,
please check our other products