How to choose a folding sliding door
The Folding Sliding Door is widely used in commercial centers and shopping malls. It can be perfectly compatible with different commercial shop layout. However, many customers don't know how to choose suitable folding sliding door for their project, even after they placed many orders. Here are some tips on how to choose a folding closure for your project
At first you need to confirm the actual door opening size and number of doors. if you have a pavilion with poles, you can choose to install several doors on each side separately, and the door panel will be fixed on the poles.
if your project layout is plane ground without poles, you can install one complete door, and the door panel will be fixed on walls on the two sides.
You need to choose suitable tracks for your folding door. In many cases, the layout of the folding door is not a straight line, it may contain curve line or 90 degree turning. we have different aluminum tracks and hanging wheels for straight and curve layout.
►35mm*45mm aluminum track is suitable for straight door layout, it can also be used for curve layout, but it needs pre-formation by a bending machine.
►28mm*40mm aluminum track is suitable for curve layout. you can bend it easily by hand or with tools, it can also be used for straight openings.
The next step is to choose suitable panel for your doors, we have many different types of door panels to choose from.
►panel type: polycarbonate panel, grille panel, perforated panel, solid aluminum panel, etc.
►panel width: 110mm, 150mm,220mm,265mm,290mm
►panel color: natural aluminum, black, white or custom color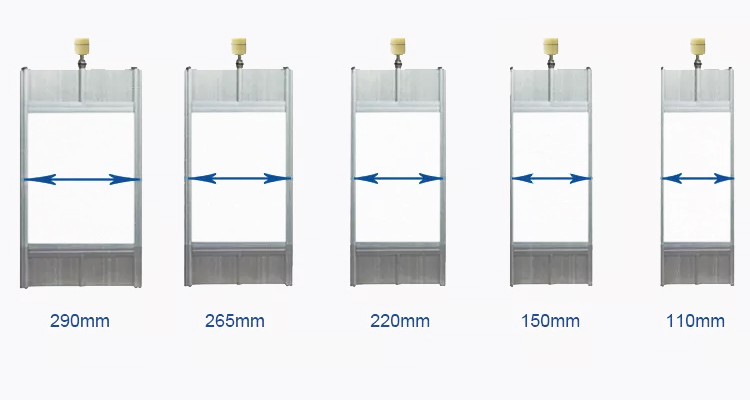 You need to confirm the stacking position and operation way of the folding door. Please note that different door panel have different stacking size. the folding door made of 110mm panels and 290mm panels have completely different stacking size. And you must think it carefully about the position of the stacking pocket.
In many cases, the door is super wide and super high. we suggest you choose manual operation for door height under 4.5m and motorized operation for door height above 4.5m.
The last thing, you need to confirm all the size in the drawing before production, the most important size is the distance between upper side of track and the floor, please check it carefully to avoid any mistake.